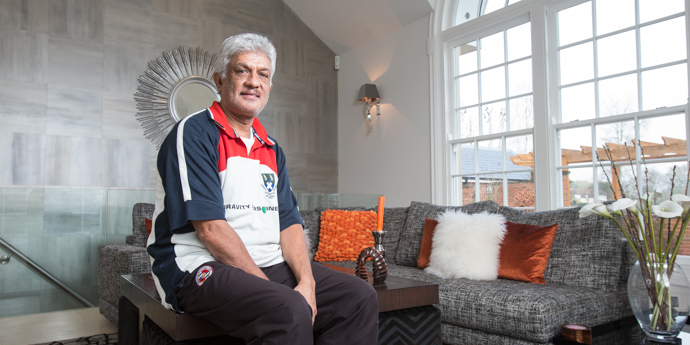 The Business Magazine – Kiren Sharma – Gravity Personnel
Having arrived in the UK from Kenya with his family as a teenager, Kiren Sharma crowned a fantastic year in 2015 when he was awarded an MBE for services to business and charity, and became the first recipient of the Lord Montgomery Award from ABF The Soldier's Charity for his 'exceptional work with the army'.  Extremely modest but very proud, he is the founder of the multi-million pound Reading-based Gravity Group of companies.  As recruitment specialists across a wide range of sectors, the group celebrated its 30th anniversary in 2013 and, although now taking a step back from the day-to-day business, the philanthropist and family man certainly knows how to keep busy.
Born in Nairobi, a young Kiren Sharma and his two sisters grew up in Kenya and Malawi, where their father worked for the railways.  Kenya's political troubles in the early 70s saw the siblings and their parents move to London, living first with family members in Middlesex, before moving to Tilehurst, near Reading.  Keen to study, Sharma took a mechanical engineering course at college in Slough and, after graduation, rather than follow a career in engineering, found himself offered a role in recruitment.  The word serendipity springs to mind as it was that very agency which formed the cornerstone of today's recruitment empire.  Sharma, who lives in Pangbourne, is married to wife Cathy and has three grown-up children.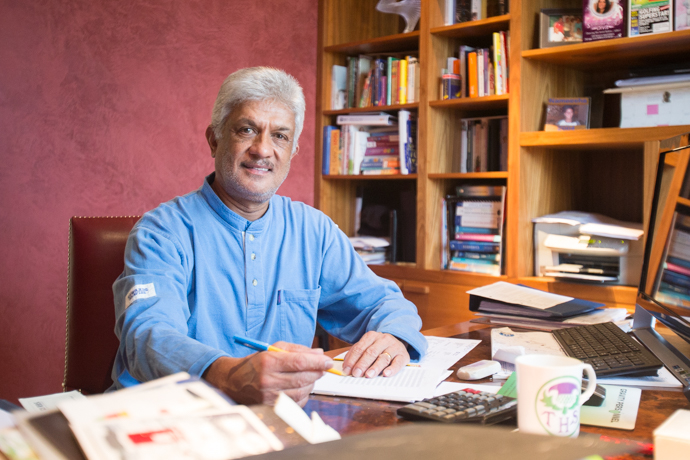 What attracted you to study engineering?
There was no real rhyme or reason.  I was interested in cars and it just appealed to me.
How did your first job come about?
I graduated in 1977 and my father saw a job advert from Forest Personnel for engineers.  When I went to see them about the role, the MD offered me a position as a trainee recruitment consultant and I've been in recruitment ever since.
I played a lot of sport to a high level in regional leagues and joined various local clubs; through that I made plenty of really good contacts and really helped my career.
All of a sudden, I realised it was a good business to be in because it was all about people and networking and that is what I like.
I spent 18 months with Forest before leaving and from there started Brunel Industrial Contractors.  In 1983 I launched Gravity Personnel, which solely supplied engineering staff, taking its name from Newton's laws, and has been going strong ever since.
Was it a big decision to start your own business?
It was always in the back of my mind that I would like to work for myself but it never occurred to me that it would be within just four or five years of starting in recruitment.
With my background I could see there was a need to supply staff purely for the engineering sector.  I used to start work at 4am, driving contractors to where they needed to be, then I'd come back to the office and do sales calls.  My wife Cathy worked flexi-time for an insurance company and when she finished work she'd come and help too, we did everything ourselves, even the office cleaning.
In the mid-1980s, Cathy joined the business and we've worked together ever since.  I couldn't have done it without her massive support.
What were some of the challenges?
When the recession of the early 90s came along, manufacturing, engineering and construction all took a massive downturn.  We diversified into other areas such as logistics and pharmaceutical and supplied all sorts of disciplines, from storemen to packers and forklift truck drivers, that kept us going.
What does the business look like today?
We went from one office in West Street, Reading, where we were on two floors, then bought our own freehold offices in Greyfriars Road.  We've expanded a lot. Now we supply up to 1,000 staff a day in and around the Reading area.  I founded Gravity Rail, specialising in the rail sector, about a decade ago and six years ago I bought Forest Personnel, the very company that had first employed me.
What's your motto in life?
The harder you work, the luckier you become.
Tell us about your family
I met my wife Cathy at college in Slough in 1974 and we married in 1985, so we've been together over 42 years.
Both our son Amal and our daughter Kaleeta are in recruitment, while our other daughter Nameesha graduated with a first-class honours degree from Bath University and now works there.
Where does the business go from here?
Seven years ago, my son Amal joined Gravity after graduating from Cardiff in business management and he has really grown the company.  We have about 16 consultants, plus support staff and drivers who we employ to take the contractors to their various jobs.
You are well known for your charity work, what inspires you?
I have always been very grateful for the opportunities England has given me and about 12 years ago, when I was pretty much set and making some decent profits, I decided I wanted to put something back into society.  That's when I started doing charity work for a variety of organisations.
For many years we sponsored the Living and Learning education supplement in the Reading Post to give schools the chance to talk about what they were doing, and we also sponsored the sports pages.
I do a lot with The Avenue School, a special needs academy in Tilehurst, and I also like to help individuals. Sometimes I'll read about someone in the paper and get in touch.  I paid for injections to help stabilise the eyesight for an elderly navy veteran and kitted out two rooms at the Royal Berkshire Hospital for young cancer patients.
I became involved with ABF The Soldier's Charity about eight years ago after they had a bucket collection at Reading Football Club and I invited them into my box for some food and drink.  I have worked with them ever since and it was a great honour to receive the Lord Montgomery Award, which was donated by his grandson.
I had a serious car crash several years ago and after that I started to support the air ambulance.  At the time they only had four helmets between about 18 paramedics, so I bought them individual ones.
I continue to look for ways I can contribute, both time and money.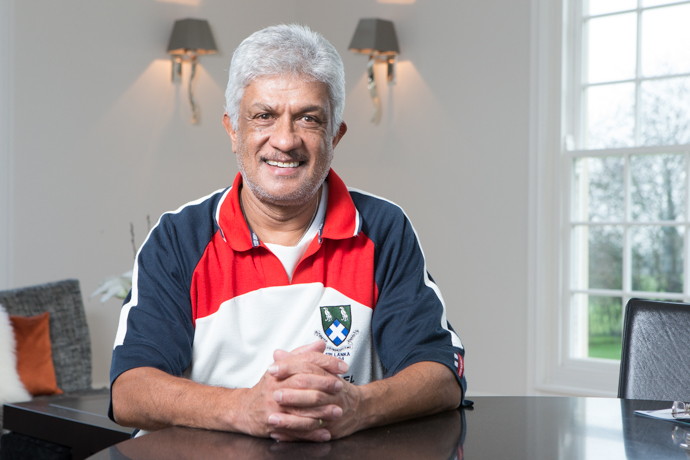 What was it like to receive your MBE?
Words can't express how special it felt and that spurs me on to do more.  To go to Windsor Castle and for the Queen to present the award was very special.  I don't do charity work to win awards and there are a lot of people that do a lot more than me.
Do you still play sport?
I train four times a week with a personal trainer and I like to keep myself fit – I owe that to my family and my staff – and I still play golf at Calcot Golf Club.
What does the future hold?
In mid-2014 I started to take a back seat from the business, but before that I never had any time off.  There is so much you can do and it doesn't always have to be financial.  I just want to be able to contribute what I can, there are so many lonely older people or children who need help.
I'm always organising events such as The Big Curry Lunch on February 19, which is a big fundraiser for ABF, and I'm working on another fundraiser on March 3 at the Hilton Hotel, in Reading, to raise money to buy a new minibus for the Sue Ryder Home.
I look around sometimes and think the world isn't a very nice place, but I don't think it matters who you are or what you are.  For me it's about getting people to see the positive side of life – if you think negative, you will end up negative.  It is all about the mindset and I like to be positive all the time.
I like to get people motivated to do things and make them laugh